Healthcare Industry CRM Software Solutions
SIC 80
CRM in Healthcare
The health industry is enormous and increasingly competitive. Non-profit and for-profit care delivery corporations and health care entities are challenged to find ways to control their costs, deal with managed care, increase their bottom lines and prove the worth of their programs.
The rise of consumer-driven health care and the increased consumer demand for accurate and timely customer service processes have forced health care organizations to focus on business software systems such as front-office CRM software systems and technologies to streamline processes and increase customer satisfaction. Many health care organizations are discovering that old ways of doing business no longer foster acceptable customer relations.
Analyst firm Datamonitor reports that in Germany, France, the UK and the US combined markets, that CRM software in the healthcare industry will see a CAGR of 9%. This compares favorably when recognizing a more limited 3% growth rate for the CRM market in all other verticals. Similarly, Datamonitor projects Enterprise Resource Planning (ERP) software applications in the healthcare industry will achieve a CAGR of 7%. This also compares with less than 2% growth for the ERP market in all other verticals.
According to a 2008 study by management consulting firm Katzenbach Partners titled, "The Empathy Engine: Achieving Breakthroughs in Patient Service", poor health care services drive patients to switch health care providers, or drive them away from better-qualified providers, leading to inefficiency, higher costs and lower quality of care.
Patients do pay attention to customer service in health care. One in four has switched or considered switching doctors (26 percent) or hospitals or clinics (23 percent) because of negative customer service experiences, according to the research. More than half (52 percent) say they choose hospitals and clinics based on whether they believe employees understand their needs. As a result, health care providers are losing business. One in four say poor experiences have caused them to use (12 percent) or think about using (12 percent) walk-in centers to avoid hospitals, clinics and doctors' offices.
The most central components of healthcare CRM software are integrated patient records and using electronic records to facilitate the check-in process, patient care and patient billing. Other key CRM functions include close integration to back office project accounting systems (see sidebar content) and enterprise content management systems.
As governments, employers, payers, and patients increasingly demand more timely information about preventive services, pre-service alternatives and post-service delivery, healthcare providers must respond with enterprise-wide, integrated business systems that serve both the healthcare provider and provide online access to patients and other stakeholders. In addition to consistently delivered customer service, patients want on-demand knowledge of their alternatives and visibility to their healthcare history.
Top healthcare CRM systems are delivering by enabling the creation and customization of health plans for patients, permitting patients online access to manage their own healthcare and acting as a system of record to better control their healthcare activities, costs and benefits.
Top health care CRM providers include the following:
Siebel Systems continues to be the lions share leader among healthcare.
Oracle, Aspect Software, Cerner, Lawson and Avaya round up the second tier.
SAP, Onyx, Talisma and Microsoft bring up the third tier.
Healthcare leaders are also leveraging CRM for error reduction. As reported in 'CRM in Healthcare' by Gear Up, CRM applications can prevent and mitigate medical errors and their crushing impact to patients, their families, public perception and the trust of communities. CRM data integrated with medical history and clinician data can directly impact medical services delivery. Doctors, nurses, pharmacists, and other medical professionals have always relied on skill, training, and technology to provide safe and effective care for patients. But as error management expert Jim Reason cautions, "it is often the best people who make the worst mistakes - error is not the monopoly of an unfortunate few." Recognizing that CRM data traditionally reserved for customer services can be logically applied to medical records opens the door to a greater patient knowledge repository.
CRM software in healthcare inherits the typical software implementation challenges and more. Healthcare IT budgets are often razor thin. Patient confidentiality and data privacy must be assured beyond a shadow of a doubt. HIPAA compliance is only the starting point and software as a service (SaaS) CRM healthcare systems must demonstrate enterprise level system compliance and information security safeguards. User adoption is generally cited as a greater challenge in healthcare than with more traditional for-profit businesses. If you think it's hard getting sales people to adopt CRM or SFA (Sales Force Automation) systems, just trying getting doctors and nurses on board.
| | |
| --- | --- |
| | The next update to this page will reaffirm the top healthcare CRM systems leadership positions and include additional healthcare industry statistics and benchmarks. |

Front & Back Office Systems

Healthcare providers face the two fold tug of war challenge of increased customer service demands while at the same time incurring constantly evolving managed care constraints.
CRM software systems for the healthcare industry clearly support improved, automated and effective patient and customer processes and can bring about consistent customer experiences and improved healthcare delivery. However, as managed care continues to drive managed costs, healthcare providers must supplement their CRM software applications with integrated back office systems in order to further automate the project accounting, administrative and billing functions and bring together the entire patient life cycle.
Managed care fixed costs are a way of life for healthcare institutions. However, while procedural reimbursement may be fixed, the costs are often variable and generally not quantifiably known at a per procedure level. Integrating CRM systems with Project Accounting or project cost systems can further leverage the customer activities and records with accurate back office cost figures to bring recognition to those processes and practices which exceed fixed cost reimbursement and warrant process optimization or other review.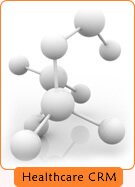 Content management systems have also become integral with CRM applications in recent years. Pharmaceutical companies have taken a lead role in using content management systems (CMS) to meet increased regulatory and compliance demands while at the same time managing the large quantities of content about their product lines across diverse touch points which include patients, health care providers and business partners.
By integrating CRM and CMS systems, pharmaceutical companies are linking more relevant data and accessing pre-filtered results with more inclusive content from the content management system based on CRM information. Medical staff are afforded only one interface, avoid duplicate data entry, and receive accurate content in real time for use with each given patient or customer.