On Demand CRM Software Suppliers
Below are a few of the market leading cloud CRM software suppliers that should be considered for the vendor short list for most on-demand CRM or SFA software selection projects.
Salesforce.com
Salesforce.com is the poster child for on-demand CRM and SFA (Sales Force Automation) software solutions. The company proved that Software as a Service can replace legacy on-premise and traditional client/server systems and clearly brought on-demand applications to the masses. Now Salesforce.com is offering a new strategy in order to become the multi-tenant platform for all software applications.
Where Salesforce.com fits best:
Saleforce.com does exceptionally well with both small business customers and large enterprise companies. While Salesforce.com boasts some of the largest SaaS clients, its average customer has about 14 users making it ideal for small business as well.
The companies Force.com and Apex proprietary development environment may appeal to ISVs (independent software vendors) looking to migrate their legacy applications to an on-demand platform. Salesforce.com's most touted up and coming direction is clearly Platform as a Service (PAAS) - a term the company invented and a direction the company is clearly moving.
Brand buyers with generic requirements and no special considerations can move Salesforce.com to the top of the vendor short list.

For additional information, see the Salesforce.com system review.

Also see additional cloud CRM reviews.
NetSuite
NetSuite had its coming out party in December 2007 with a successful IPO (initial public offering). While the company began its corporate life as "NetLedger" and is far better known for its on-demand accounting software, its CRM software is slowly but steadily evolving. The company's majority shareholder owner is none other than Larry Ellison, CEO of Oracle, which explains why the company's management team and employee roster lists a number of former Oracle staff.
Where NetSuite fits best:
NetSuite's heritage and best fit is on back office applications. The company began as a hosted accounting software product and only more recently added CRM functionality.
NetSuite's E-commerce system is very impressive and completely integrated with back office accounting and financial system.
In what appears to be an effort to match Saleforce.com's Force.com, NetSuite introduced NS-BOS - the NetSuite Business Operating System. Similar to Force.com, this may appeal to ISVs seeking to migrate their legacy applications to the hosted delivery model.
NetSuite offers vertical market solutions for software companies, wholesale and distribution companies, media & publishing, advertising, agriculture and manufacturing organisations.

For additional information, see the NetSuite system review.
RightNow
RightNow evolved from a Customer Support and call center heritage and continues to dominate this part of the CRM software industry. While the company offers second to none help desk and customer service applications, it has always struggled with Sales Force Automation (SFA) and marketing automation applications. In 2006, RightNow acquired on-demand SFA vendor SalesNet, however, the integration of diverse technologies and a distant software company has presumably proven too difficult to resolve the company's void for SFA and marketing software.
Where RightNow fits best:
RightNow does does very well with midmarket and enterprise organisations seeking best of class on-demand help desk, customer service or call center applications.
The company offers the most impressive self service portal in the SaaS CRM industry.
RighNow's computer telephony integration (CTI), interactive voice response (IVR) integration and various other call center capabilities are the best in the market.

We'll be publishing a RightNow system review after the next product version release.
Aplicor
Aplicor has surprised many industry insiders by dominating the middle market and competing very well in the enterprise market for hosted CRM software. The company has earned some of the largest SaaS CRM implementations in the world, including Ford, the Cargill, France Telecom, Tyco and the US Department of Commerce (DOC). Aplicor has also succeeded in winning more independent product reviews than other on-demand CRM software solutions.
Where Aplicor fits best:
Aplicor is clearly designed and built for middle market, enterprise and global organisations which desire deeper software functionality and have needs that are not accommodated by generic or vanilla CRM software.
The company also provides an integrated online accounting software system and Enterprise Resource Planning (ERP) application so may be a good fit for companies looking for an enterprise-wide hosted business software system.
Aplicor's graphical customization designer, workflow designer and business intelligence (BI) suite are unmatched on the on-demand software industry.
Aplicor also offers impressive industry solutions for government / public sector, financial services and professional services companies.

For additional information, see the Aplicor system review.

Technology Disruption

Smaller, faster and more agile SaaS software vendors have succeeded in using a compelling value proposition to displace several of the largest enterprise software vendors in the world.
Corporate customers of all sizes have recognized and realised the inherent and fundamental inefficiencies of the traditional licensed software market, including the tremendous time, effort, cost and risk, required to install, maintain and keep business applications up and running.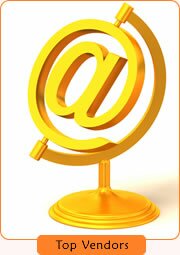 On-Demand CRM Software Systems