CRM Software Technology
Clearly the newest and most touted CRM software disruptive technology is CRM on-demand, sometimes called hosted CRM software and most commonly called CRM software as a service (SaaS). But as with most things new, SaaS is far less about new technology and far more about improvements to the acquisition, delivery and support of CRM business systems.
SaaS CRM applications are acquired on a user-based subscription or rental basis. The software subscription is generally based on the named user count and invoiced on a monthly or annual basis. When compared to making a capital investment purchase, the software subscription pricing model can make a lot of financial sense as business software is a quickly depreciating asset where the real world value is often less than the balance sheet value. As the average life cycle for CRM systems continues to decline, software ownership takes on a reduced value. CRM software reviews continue to show that SaaS CRM systems compete well with traditional on-premise systems.
CRM SaaS applications are remotely delivered over the Internet from centralized data centers. The more trustworthy SaaS vendors manage highly available and redundant data centers which normally exceed the investment and reliability most companies could afford. Since software as a service providers are in the full-time hosting business, their staff and procedures related to application availability, system uptime, equipment redundancy, system fault tolerance, information security, disaster recovery and business continuity are generally far more proven than companies not in the full time hosted software business. At the turn of the century, SaaS business solutions were immediately met with reliability and security concerns. However, while still valid points, those concerns have been remedied by each of the market leading and credible SaaS companies.
According to a CRM magazine article, on-demand CRM implementation costs can be 25% to 40% of those for an on-premise implementation, as measured in terms of the costs for internal staff and professional services. Further, the costs for additional hardware infrastructure can be brought to zero with SaaS.
After software cost savings, user support and speed of implementation are often the second and third most cited advantages of SaaS CRM systems. Relieving over-utilized and under-resourced Information Technology (IT) staff from the never ending backlog of maintenance, upgrades, patches, management and trouble-shooting headaches permits a company's in house IT professionals to focus on the company's core competencies and projects more closely aligned to the organization's vision and strategy.
On demand CRM software or CRM SaaS applications are by far the highest growth items in the CRM industry. In fact, without SaaS, the entire CRM software industry would be near stagnant. As with many high growth markets, a number of me-to vendors have rewritten their marketing brochures, but not their CRM software, in an effort to reposition old and bloated client/server and fat client programs as thin-client SaaS applications. Don't be fooled. This is a classic case of the old analogy of putting lipstick on a pig. The front-end looks better, but it's still a pig.
Unless the software was developed for thin-client Internet delivery, its operation in a browser will be problematic, its performance over the Internet will be slow and its maintenance and user support will be high. Real SaaS applications leverage native browser-based delivery and completely avoid client-side download requirements (particularly ActiveX and DLL controls).
Surprisingly, or maybe not based on history, several of the most popular and largest software vendors have chosen to fight this new value proposition and unstoppable industry trend. There not-so-hidden objectives are clearly to protect their existing product cash cow business and flagship revenue source. Several of these software manufacturers (Oracle and SAP) originally ridiculed the SaaS movement. However, after the evolution passed them by, they slowly come around with their own SaaS CRM software solutions. Nonetheless, their short sighted fear tactics gave way to delay and gave instant rise and market share to credible CRM SaaS solutions from Salesforce.com, NetSuite, Aplicor and Entellium. It remains very doubtful that the industry giants such as SAP and Oracle can or will choose to ever deliver SaaS solutions that can favorably compete with the smaller more focused start-ups or even whether their solutions are genuine or little more than a defensive tactic designed to slow the attrition of their on-premise customer information systems.

CRM Software as a Service

What exactly is Software as a Service (SaaS)?
While there is no consensus for a single SaaS definition, and there countless vendor self serving SaaS definitions, it is generally agreed that SaaS meets the three primary business value propositions of 1) subscription pricing model, 2) remotely hosed delivery over the Internet and 3) outsourced IT application management by the SaaS provider.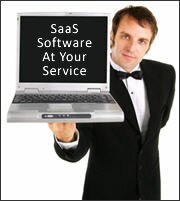 If you prefer a more authoritative source, analyst firm Gartner defines SaaS as software that is owned, delivered and managed remotely by one or more providers. Additionally, the application is based on a single set of common code and data definitions, is consumed in a one to many model by all contracted clients and uses a pay-for-use or subscription-based fee model.
Commonly cited benefits of CRM SaaS solutions include low deployment costs, little up front capital investment and the reduction of recurring resource requirements for technical and back-end information systems management.

A Few More SaaS Definitions