CRM Software Market Share & Trends For North America
The North American and Global CRM Software Market
In 2012, Global customer relationship management (CRM) software revenue grew 12.5% from $16B to $18B, according to Gartner, Inc. The market is poised for continued double digit growth through 2016.
According to analyst firm Gartner, 80% of all CRM software in 2012 was sold in North America and Western Europe. Greater China achieved the highest global CRM growth of 26.9% while Latin America was second in CRM growth at 24.3%. North America CRM sales grew 16.6%. Gartner advises EMEA may likely become largest CRM growth area beginning in about the end of 2013 through 2014 due largely to pent-up demand.
Emerging markets such as Latin America, Eastern Europe and the Middle East and Africa will continue to see upward trends in CRM spending, particularly in specific industries. While the U.S. has led CRM adoption worldwide for nearly two decades, the CRM software report suggests that BRIC (Brazil, Russia, India and China) countries will lead the way with the highest growth in CRM software spend.
Growth is also being driven by SaaS (software-as-a-service) subscription-based CRM. In fact, cloud CRM is the single highest CRM growth sector. 40% of all CRM software sold in 2012 worldwide was SaaS-based. Gartner forecasts cloud CRM will continue to be the highest CRM growth sector for at least the next four years.
Not surprisingly, open-source CRM is not yet making significant inroads. Market share for open source CRM offerings will remain below 1 percent, Gartner said.
The United States leads the world in Customer Relationship Management spending, deployment, utilization and payback. While estimates of global market representation vary in the range of 50 percent to as high as 62 percent, the most recent figures suggest that the American market consumes approximately 58 percent of the total global CRM market.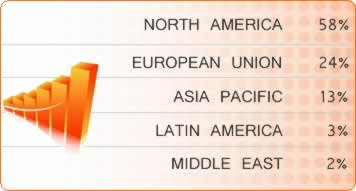 However, CRM adoption varies greatly by market size. Enterprise CRM software solutions have saturated the Fortune 1000 market while middle market and small business application providers have yet to fulfill the majority of the small and midsize business (SMB) market. Software as a Service (SaaS) or on-demand CRM systems have made significant inroads in satisfying the SMB market and continue to drive upstream in penetrating enterprise level organizations.
As the North American CRM software market matures and begins to approach saturation, CRM vendors are refocusing their attention and business development efforts toward the rest of the world. While the United States will continue to lead global CRM software market adoption, analysts expect other regions such as Asia and the European Union to achieve higher percentage growth rates overall.

North America CRM Market

As the North American Fortune 1000 CRM software market has become saturated and the small business market has seen aggressive CRM adoption over the past decade, software vendors accustomed to serving either large enterprises or small businesses are converging in the coveted middle market.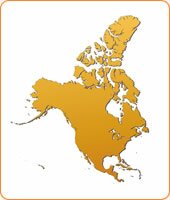 The middle market has remained elusive in part because these organizations require functionally rich applications systems similar to enterprise organizations, however, have budget constraints which prohibit the acquisition and ongoing operational costs associated large scale business systems. Middle market companies normally require deep software feature sets, flexible configuration, straight-forward system integration and easy to use system administration tools generally not available from the small business CRM vendors.
Software as a Service CRM systems may deliver the functionally rich applications at the reduced investment that midmarket companies have long been waiting for. SaaS CRM applications have enjoyed a sky rocketing growth rate among small business customers and are now clearly showing major market penetration in both the middle market and enterprise market.


Excellent SaaS Reference Sources