CRM Software Market Share & Trends For The European Union
The European Union CRM Software Market
The Western European CRM software market exceeded €2 billion in 2006 for the first time, continued a growth rate of approximately 8.5 percent through 2008 and has since remained sluggish. The top five CRM software solutions in Europe are SAP, Oracle, Aspect Software, SAS Institute and Genesys Labs. While still not dominating in absolute market share figures, the on-demand CRM vendors continue to demonstrate the highest growth figures. On-demand systems currently make up about 3 to 4 percent of Europe's CRM market, however, continue to grow at over 40 percent per year.
Analyst firm Gartner indicates that SAP and Oracle (including its acquired Siebel solution) jointly hold more than 50 percent of the total CRM software market in Europe and Microsoft is experiencing the fastest CRM growth in Europe.
According to Gartner Senior Research Analyst Chris Pang, "The picture in Europe is very fragmented. Our research shows that growth in spend on CRM software correlates strongly with economic growth measures such as gross domestic product (GDP). GDP growth in countries such as Italy and Germany remains lower than the rest of the world, while market growth in countries such as the UK, Sweden, Norway and Denmark has been more consistent with that in North America. This means we are seeing CRM growth rates ranging from a slight negative to more than 27 percent depending on the individual country."
Gartner also discovered high levels of CRM product procurement, material price reductions and exchange rate fluctuations as significant factor affecting market growth. Gartner's Pang said "Acquisitions of major players such as Peoplesoft early in 2005 and Siebel in 2006 by Oracle have played a key role in pushing prices down. This encouraged more buyer activity with users 'stocking up' on CRM software. The net result is that we are seeing a return to more realistic and sustainable buying levels."
Most analyst firms forecast continued high levels of CRM software procurement through 2008. Gartner also believes that one in three CRM software suppliers will be involved in a merger or acquisition (M&A) each year. Despite this analyst Pang said this is not a shrinking market. "This ferment of M&A activity will spark a burst of innovation in CRM application research and development from 2006 to 2010. Particularly in Europe, the market is still wide open for smaller, best of breed vendors. Additionally, both Salesforce.com and Microsoft have the resources and desire to gain scale and narrow the gap with SAP and Oracle going forward."

European Union CRM Market

Most industry analysts believe that Europe and the Asia Pacific region, which are already sizable enterprise software markets, represent the next large opportunity for CRM software vendors.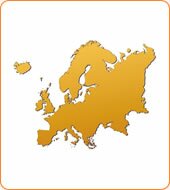 While the United States leads the world in CRM adoption and spending, analyst firm Datamonitor projected that Western Europe is set to grow at 22 percent annualy, a much faster rate than the United States.
A Cahners research survey reveals that the United Kingdom leads Europe in forecastd CRM deployments with 29 percent of respondents indicating they plan to implement CRM software solutions. Spain finished second with 19 percent, followed by Scandinavia at 16 percent, Italy at 13 percent, France at 11 percent and Germany at 9 percent. Survey results also show that the telecommunications and consumer goods industries forecast the largest CRM growth with the healthcare and automotive industires following close behind.


Excellent SaaS Reference Sources