CRM Software Market Share For The Middle East
The Middle East CRM Software Market
Analyst firm Gartner forecasts that CRM software sales will rise by 19.7 percent, to $113.8 million, in the Middle East and Africa (MEA) region and that the MEA region will experience a compound annual growth rate (CAGR) of 12.9% from 2007 through 2012.
Very similar to CRM in Latin America, Middle East CRM software sales growth is largely expected along certain driving industries. According to Gartner principal research analyst at Chris Pang, "In terms of the industries that we're really talking about for MEA, it's some of the industries within professional services, financial services, basically those areas which are at the moment seeing a boom. As Dubai and other middle eastern countries transform their economies from being more oil-based towards more professional services and financial services-oriented, we expect some of the growth in CRM to come into play."
Gartner also expects software-as-a-service (SAAS) to to gain popularity in the middle east, however, not at the same aggressive rates experienced elsewhere. "In terms of SAAS uptake in North America and parts of Western Europe, that's been very quick and it's been growing quite significantly year on year," said Pang, "However, in the Middle East, we expect the uptake to be a little bit slower and follow the trend of continental Europe, places like France and Germany as opposed to places like the UK and Netherlands which have been faster adopters of SAAS."
While North America will continue to be the largest market for CRM up through 2012, reaching $7.67 billion, and global CRM spending will rise 14.2%, to reach $8.95 billion, Gartner expects the strongest CRM industry and software sales growth from the Asia Pacific region and emerging markets such as MEA, Latin America and Eastern Europe where revenue is projected to grow from $410 million in 2007 to $840 million in 2012.
According to the Annual Middle East Call Centre/CRM conference, CRM adoption among middle eastern countries has surpassed 20 percent annual growth and The Middle East Contact Centre market is currently witnessing a 30% growth rate in the number of agent positions.
Within the GCC, Saudi Arabia represents 40% of $5 billion regional computer and IT application market. As internet growth forecasts suggest that Middle East Internet users are expected to triple, Saudi Arabia's follows this trend and the current estimated 1.5 million users are expected to triple. This growth is extraordinary when you consider that the Internet only emerged in Saudi Arabia in 1998, and at that time all connections ran through a government server.
| | |
| --- | --- |
| | Rohid Bezer will be attending the next Gitex in Dubai with the hopes of identifying the top CRM software solutions within the region. |

Middle East CRM Market

Dubai, Kuwait and the Kingdom represent the most mature CRM strategy and business software utilization in the middle east.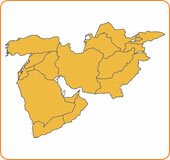 While Saudi Arabia has demonstrated years of CRM progress and payback, the economic boom in Dubai is accelerating CRM software demand beyond levels previously witnessed in the Middle East.


Excellent SaaS Reference Sources