Government CRM Software Solutions
Government and Public Sector Information Systems
Many local, state, provincial and federal governments have deployed broad CRM software solutions to improve multi-channel and citizen-centric government and many more government institutions are using CRM techniques and technologies to improve public services and as part of their e-government service transformation strategies. The emergence of eGovernment, Government CRM systems and the trend of adopting private sector business concepts into the government arena have increased the vision and operational thinking that government can provide the same one-stop shop or multi-channel customer responsiveness as most large and decentralized companies. Within the public sector business systems environment, there are multiple definitions of "CRM" and similar customer facing information systems, which include Constituent Relationship Management (CRM), Citizen Relationship Management (CiRM), Public Relationship Management (PRM) and Citizen Encounter and Relationship Management (CERM).
According to Framingham, Mass.-based analyst firm IDC, government CRM software purchases account for about 6% of the CRM market. IDC forecasts a 5.5% annual growth rate in public sector CRM and believes the on-demand government CRM systems will far outpace the legacy on-premise systems.
John Kost, managing vice president for Gartner's government and healthcare research, indicates that in many cases CRM systems can aid government in putting a contemporary face on aging, siloed legacy systems. "Few governments can afford to modernize all of their legacy systems," Kost said, "and CRM will increasingly be seen as a way of driving better customer satisfaction and better service."
Citizen demands for improved public services are a constant theme across the globe. For example, a recent survey revealed that 71 percent of Canadians say that public services should be even better than the private sector, however, only 41 percent actually believe existing public services are better. According to Stuart Willoughby, director of the USA Services' Federal Solutions Division at GSA (General Services Administration), a citizen survey conducted by the GSA Office of Citizen Services confirmed that citizens want and expect consistent information across all channels -- the Internet, email and the call center.
A Pew Research Center poll found that the vast majority of Americans agree "when something is run by the government, it is usually inefficient and wasteful." Former British Prime Minister Tony Blair famously commented, "Expectations are higher. This is a consumer age. People don't take what they're given. They demand more." To put the challenge into a relative context, Canadian (Ontario) Secretary of Cabinet, Tony Dean, linked government's challenge to the private sector, "In retail, consumers are continually getting things bigger and cheaper than before. But for public services, we just keep asking citizens for more money for the same product. That's no longer credible. People feel as though they're paying enough."
Growing federal mandates and increased citizen expectations have combined to place new pressures on federal agencies as well as state and local governments. Citizens want interactive web self-service, expedient answers to email, the convenience of voice automation and responsive call center support so they can get the answers they need quickly and easily.
Having trailed the private sector for CRM deployment, Government actually stands to gain considerable insight. Implementation success rates with private-sector CRM projects range from 30 percent to 70 percent. Analyst firm Gartner claims that over half of CRM implementations do not meet their intended objectives and a Forrester survey of business and IT executives shows that about 47 percent of those surveyed were satisfied with their CRM systems - odds worse than a coin toss. However, armed with the lessons learned and shared knowledge of these mistakes puts government in a position to reduce the guesswork and mitigate risk.
Today, government entities are implementing CRM systems at a feverish pace. SAP's Dave Kuenzel says "We're seeing a recent trend, over the last two years, where government is finding ways to integrate CRM with their other systems to take care of everything from their supply chains and emergency response teams like hazmat to citizen issues like pot holes, downed traffic lights and delayed garbage pick-up."
Top CRM government solutions and vendors include the following:
Oracle and Siebel Systems lead among government CRM systems; the two combined now dominate public sector software.
SAP, Aspect Software and Avaya make up the second tier.
Genesys, SAS Institute, Microsoft and Aplicor bring up the third tier.
While many layers of governments have implemented CRM systems on-site, we believe that there will be greater adoption of the hosted CRM model in the future. Further, we think that voice-enabled software will become a more requested component of CRM systems for government, however, will never completely replace live staff.
Government SIC includes 91 through 97. When government is categorized as an industry it can go by any of several names, including e-government, public sector, public administration, Federal Agencies and Bureaus, and National, State and Local Governments.

Government CRM Software

Public sector CRM is an operational strategy supported by public service processes and information technology in order to enhance citizen relationships and encourage new forms of citizen participation. CRM technologies allow federal, state and local governments to improve the delivery of constituent services and increase internal efficiencies.
Government agencies are successfully achieving a reputation change from being bureaucratic, slow moving or unresponsive to being citizen centric and helpful. In many scenarios , government agencies are taking their cues from the private sector and capitalizing on the lessons learned and experiences born from commercial entities.
Government CRM software normally includes citizen-centric services such as economic outreach programs, promotion of human services programs, call center support and citizens self services. While the CRM acronym may stand for different words when applied to government, the objectives in the areas of achieving the benefits of ease of use, user productivity, better information return on investment remain the same.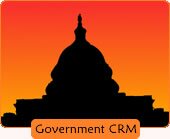 Government Specific CRM Systems
Several CRM software solutions offer both traditional licensed software systems and on-demand CRM software systems which meet the unique needs of government and public sector organizations. Key government specific CRM capabilities include adherence to government terminology, pre-configured government specific workflow processes and fulfillment of mandatory requirements such as Section 508 (to accommodate disabled persons) and NIST C&A information security requirements. Software vendors with government CRM industry specific versions include Oracle, SAP, Salesforce.com and Infor Lawson.
Related Government Web Sites