Open Source CRM Software Reviews
Below are the market leading and top open source CRM software solutions that should be put on the vendor short list for any software selection project.
Anteil CRM Review
Anteil began as a relationship between VA Linux Systems and its key consultant James Capp. Capp later launched the company, Anteil, and VA Linux remains a strategic partner and customer. Anteil is designed to assist customers in better identifying, attracting, retaining, servicing and supporting customers. The open source CRM software product has been adapted to nine vertical markets and government CRM requirements.
The product's web-based architecture is logically constructed with a presentation layer, business logic layer and modular database interface layer. The presentation layer is XHTML/HTML/XML and uses JavaScript for form validation, navigation and browser independence. The business logic was developed in PHP. A Common Gateway Interface (CGI) and Application Programming Interfaces (APIs) are available for C/C++, PHP and the UNIX programming environments. The server platform uses the traditional Linux operating system and Apache Web Server. At the data layer, Anteil supports MySQL and PostgreSQL. The relational structure is insulated from the database storage through an abstraction layer. This segregation permits the flexibility to use multiple relational database management systems with a common code set. The abstraction layer also delivers near-instantaneous transaction level data replication to multiple servers distributed in a wide area network (WAN) or in a local cluster of servers.
For additional information, see the Anteil CRM open source review.
Concursive CRM Software Review
Formerly known as CentricCRM, Concursive is one of the top commercial open source CRM software solutions. The December 2007 name change was timed to coincide with the company's ConcourseSuite version 5 market launch as well as to project the company's expanded brand which in additional to CRM also includes complimentary front office applications.
Founded in January 2000 and based in Norfolk, Virginia, the company employs about 50 staff and is not yet profitable. In May of 2007, the company received a Series A round of venture funding from an investment group which included Intel Capital, a venture source with an appetite for open source software solutions. The company's largest customer is US Foodservice which has up to 4,00 users accessing the application which runs on a single Intel quad processor server. Despite this large customer, the majority of Concursive's customers are small business operations. The most common customer management system being left behind by new Concursive customers is ACT!. The company's user community has seen a growth revitalization. The number of registered users has grown from about 4,000 in August 2006 to over 12,500 in January 2008. The company has clearly recognized the market demand for software as a service (SaaS) CRM systems. Concursive offers its flagship product as either an on-premise or on-demand CRM system. The company also offers its ConcourseSuite at no charge for a maximum of five users.
Concursive's primary competitor is SugarCRM. Concursive shows strengths against SugarCRM in the areas of ease of use, content management, array of front office utilities, web 2.0 and social media tools, code documentation, software scalability and its multi-tenant architecture. Concursive's primary weaknesses include poor brand recognition and a relatively weak (but improving) partner program.
For additional information, see the Concursive CRM open source review.
Daffodil CRM Review
Daffodil's customer sweet spot has historically been the 5 to 15 user seat installation with a company of about $10M. However, Daffodil is in a product expansion mode and a new CRM software system review is underway.
| | |
| --- | --- |
| | We'll be publishing a new Daffodil CRM software system review in the next release. |
SugarCRM Software Review
Cupertino, California-based SugarCRM made its first release in September 2004. In December 2006, SugarCRM announced it reached the milestone of 1,000 paying customers. The milestone of corporate profitability remains far more distant. The company offers a free open source CRM system as well as a commercial offering in SugarCRM Professional, which includes support and much more functionality. Some of the company's largest customers include First Federal Bank, Honeywell and Starbucks.
SugarCRM offers multiple software delivery options, including software as a service / on-demand, on-premise and appliance-based solutions. The open source CRM software product is licensed under GPL v3. Sugar On Demand is only available for the professional and enterprise editions with about 70 percent being delivered onsite and 30 percent delivered on-demand.
For an independnt review, see the SugarCRM Review.
For additional Sugar information, see the Sugar CRM backgrounder.
xTuple Review
This open source CRM software system has changed its name from OpenMFG to signal an expanding product suite. An updated CRM software solution review is forthcoming.
| | |
| --- | --- |
| | We'll be publishing a complete xTuple CRM system review in the next release. |

Small Business CRM

Software buyers expecting commonality among the population of open source CRM systems may be surprised. The packages differ greatly in terms of user interfaces, navigation, ease of use, feature sets, functionality depth, system administration capabilities and cost.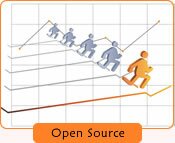 The one area of overlap seems to be the small business target market. The small business market has thus far provided the biggest adoption of open source CRM applications.
According to industry portal CRM4SME, the small business market is generally defined as companies employing 1 to 10 front office staff, including sales people, marketers, service staff and call center representatives.